Throughout the Covid-19 outbreak, we have witnessed many changes in the way people use public spaces, public transportation and private motorized transportation; especially in cities.
In addition to saving lives, many cities have leveraged the #stayhome movement to integrate Tactical Urbanism,  which describes any "dynamic, interim measure to promote active travel." The Ethical Transport Association (ETA) reports how cities around the globe are shifting space from cars traffic to walking and cycling. As a result, key workers have been able to travel in safety from air pollution, which can exacerbate the symptoms of Covid-19. New Zealand is subsidizing infrastructure modifications like widening pavements and providing temporary cycleways. Major cities like London, and Milan are considering limiting motorized traffic in specific urban areas to convert roads to temporary cycle lanes. 
Lombardy's COVID-19 Strategies
One of the first areas in the West to be heavily affected by the Coronavirus was Lombardy, in Northern Italy. Its capital Milan, a global hub of fashion and finance, and neighboring industrial areas were hit hard by the pandemic reporting Europe's highest death toll. 
As part of its response, the Lombary regional government encouraged local governments to enact many Tactical Urbanism strategies ranging from temporarily converting roads into no-drive zones, expanding bike paths, to widening walkways in order to refigure public spaces to create places that are safe, social and functional during these times of social distancing. 
Otonomo wanted to see how the virus, along with closing parts of the city to private vehicle movement, affected the traffic patterns of the city of Milan, and its outlying areas.
Leveraging the Accuracy and Diversity of Connected Car Data
We took a close look at traffic, specifically only moving vehicles during the morning rush hour (9-10:00 AM), on random Tuesdays over a five month period – before the pandemic, at the start of the pandemic, and recently, when some restrictions have been relaxed.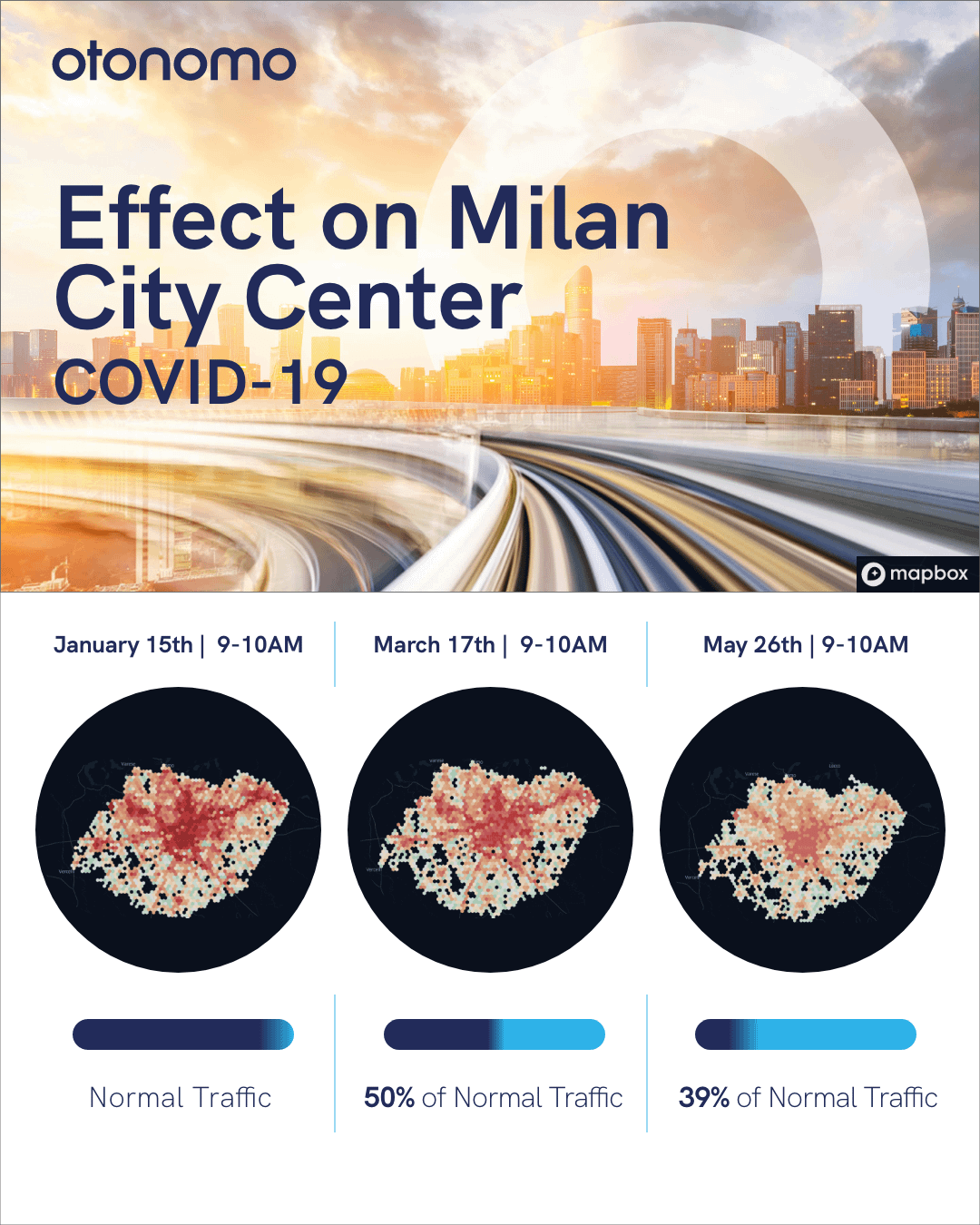 The connected-car data led to the following observations:
Throughout the 5 month period, the city center was still busier than the outskirts.

Traffic became more condensed in the inner city ring, when previously it was more spread-out around the city center.

The number of cars dropped significantly since January, and keeps dropping, even when comparing March with May.

While January is usually a month with less outdoor activity, we can see there were almost three times as many cars on the road in January than there were in May.
As seen by the creative tactical urbanism solutions deployed by municipalities across the globe, cities can leverage the accuracy and diversity of connected car data to improve a variety of smart city services ranging from traffic management, mapping, parking, and predictive maintenance.