Non-weather data plays a crucial role in developing rich weather intelligence for consumers and businesses alike. We sat down with Scott Perociello, CEO of WeatherOptics to discuss what weather intelligence is and how it can be leveraged to support better business decision-making for transportation services.
Let's dive in! What exactly is weather intelligence?
Simply put, weather intelligence focuses on the "so what?" of a weather forecast. Rather than predicting pressure and dew points, we predict power outages and shipment delays. Our algorithms translate raw weather data into actionable insights so our customers aren't left trying to figure out how an inch of snow impacts Boston vs Atlanta.
At WeatherOptics, we focus on how weather interacts with the real world so we can predict the actual impact on a given industry or business. In order to do this, we ingest non-weather data on things like topography, tree canopy cover, and river distance, and combine it with ground-truth vehicle data.
This type of intelligence makes it possible for tech-savvy software companies and legacy companies alike to easily integrate weather into their platform to create value for themselves and their customers, without having a degree in meteorology.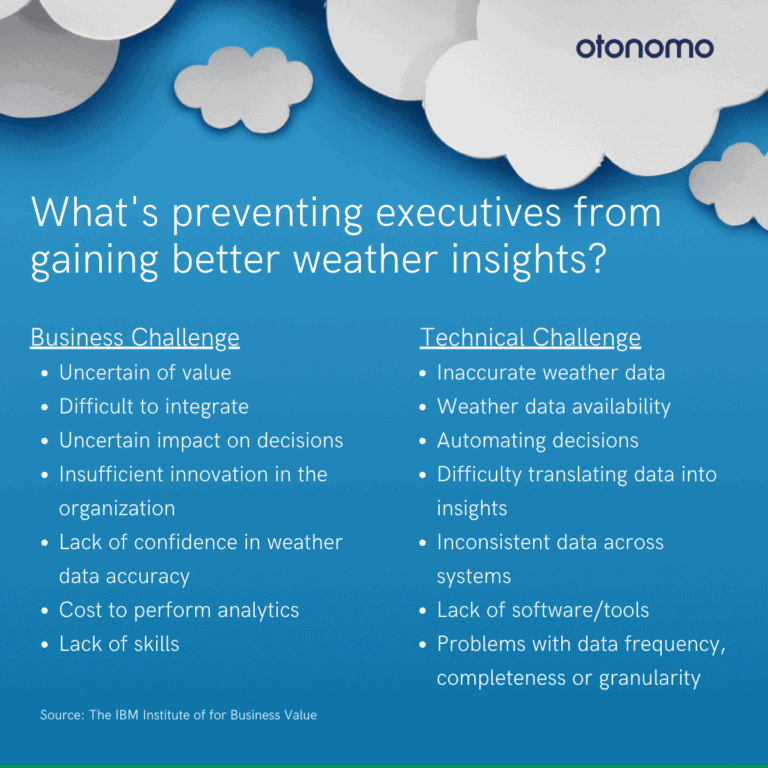 Have you found whether data is something that customers struggle to manage in-house?
Absolutely. Weather affects nearly every industry, yet 60% of business executives are uncertain how to make decisions based on weather data alone. On top of that, 63% of organizations have at least one staff member dedicated to analyzing the weather.
The goal of our technology is to solve both of these issues. Rather than feeding companies raw weather data and forcing them to hire staff that translates that data into impact information, we take care of everything in-house to produce a simplified index or insight that allows for faster, cheaper, and more effective decision making.
When done right, how can weather intelligence be used?
There are a wide variety of use cases for weather intelligence, but our current focus is on supply chain and logistics.
We produce two core products that our logistics clients leverage. RightRoute is the first weather-adjusted ETA to market, and it alerts shippers, carriers, and supply chain management software companies of potential delays or needed changes in routing.
Our Impact API rates weather impact on a simple scale of 1-10 to give our clients direct visibility into what operations are going to be impacted by current or upcoming weather conditions at a single location. For example, we produce a road conditions index that rates road danger on a scale of 1-10 –– our clients use this data to alert drivers, prepare for accidents and road closures, and uncover long-term signals of when disruptions are likely to impact supply chains.
We also work with other industries significantly affected by the weather. This includes electrical power and utility companies who leverage our Power Outage Index, Agricultural companies who leverage our crop degradation indices, and financial companies who leverage our Business Disruption Index. As we grow, we plan to both enhance and create additional products in these spaces, similar to how we're innovating with supply chain and logistics.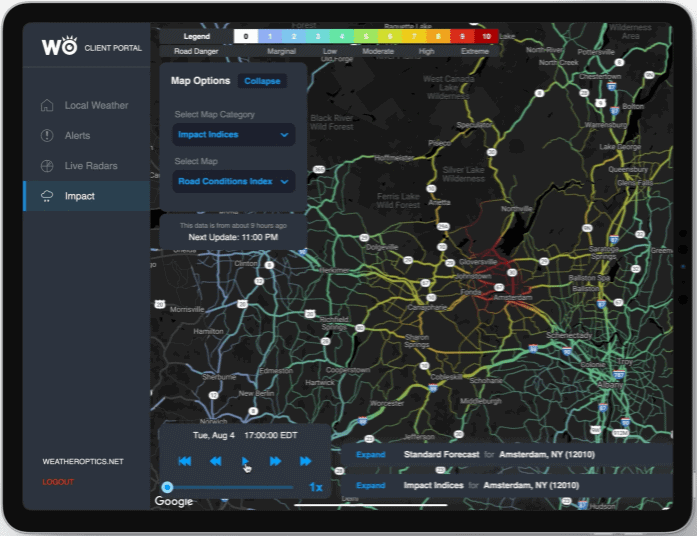 What was the driving force behind combining vehicle data and weather data? (no pun intended!)
Real-time and historical vehicle data is crucial to figuring out how weather affects driver and vehicle performance. Without the right type of partnership, this data is pretty difficult to leverage. When we came across Otonomo, we knew the data and insights offered were exactly what we were looking for to take our weather intelligence to the next level. We're now able to analyze weather and vehicle speeds across the entire US, and consistently improve our predictions for clients who rely on our software.
Can you give us an example of a business win that you provide for the customer through RightRoute?
Freight carriers like XPO Logistics, Swift-Knight, and J.B. Hunt are prime examples of businesses that can leverage RightRoute to save significant money. Some of the largest carriers have tens of thousands of trucks across the country with hundreds of thousands of shipments each day. Shippers and carriers both lose between $50 and $65 per hour of a weather delay, and weather accounts for a whopping 25% of all shipment delays, so in a given year these companies can be losing millions of dollars and vehicle hours on weather-related slowdowns.
Freight carriers that have truckload or less-than-truckload shipments can call RightRoute for all of their ongoing and future loads to see the duration of weather-related delay, where along the route delays will be most significant, and the contributing factors. RightRoute also analyzes alternative routing options to avoid these disruptions.
Proactive knowledge of shipment disruptions can allow these carriers to improve work shifts and hours for unloading personnel, better manage time and temperature-sensitive products, ensure appropriate fueling and operational costs, and avoid extra in-transit inventory holding costs. Ultimately, these alterations cut down on late fees and improve customer retention.
Do you have any advice for businesses who would like to start using weather data but are unsure about how to integrate it?
Reach out to the Weatheroptics team! We have a dedicated and experienced group that assesses businesses on a case-by-case basis, and can both recommend and assist with integration techniques. We know each business is unique, but our data has been utilized by companies ranging from demand planning and manufacturing to predictive freight rates and capacity sourcing, to some of the largest shippers and carriers in North America. You can learn more about our visibility and disruption software here: https://www.weatheroptics.co/api
Scott, thank you so much for sharing your insights today.
Architected for security and privacy by design, Otonomo's platform complies with even the most stringent data privacy regulations including GDPR and CCPA, ensuring all parties are protected and companies remain compliant across multiple geographies.