Manage personal data sharing the way drivers want
Transparency Matters to Consumers When Deciding to Share Data
Transparency is the number-one factor driving consumers' decisions about whether to share their data with apps and services. The Otonomo Consent Management Hub provides an efficient way for connected car drivers to take control over the sharing of data from their connected cars.
About the Consent Management Hub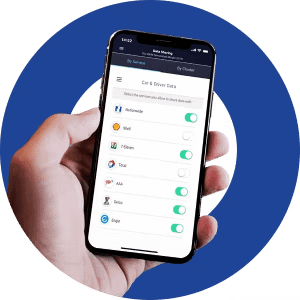 Simple Experience, Clear Actions
Drivers can grant or revoke access for specific services at any time. They get full transparency as to what personal automotive data will be shared with specific services. Otonomo provides both interfaces and APIs that OEMs and other data providers can utilize to incorporate consent management into their apps.
A networked architecture simplifies setup and integration and delivers high scalability for automotive OEMs and service providers. It can address very complex consent management flows that grant either one-time or ongoing permission.
Compliance Simplified and Streamlined
Built to support the European Union's General Data Protection Regulation (GDPR) requirements, the Otonomo Consent Management Hub also meets requirements for other sets of consumer regulations.
Otonomo Consent Management Hub Brochure
Learn more about how the Otonomo Consent Management Hub works.
Read the Otonomo Driver Pledge
Otonomo is committed to putting privacy first.
What Drivers Think about Connected Car Data and Privacy
Read this survey conducted by Otonomo and Edison Research to learn what US drivers think about privacy and car data.
See the Otonomo Consent
Management Hub in Action