Vehicle connectivity and the wealth of automotive data that it brings is a driving force behind the smart mobility transformation, fueling multiple use cases and a large ecosystem of automotive companies, service providers, fleets, and drivers.
At otonomo, we're committed to the future of smart mobility and that's why we're thrilled to announce our collaboration with Amazon Web Services (AWS) through integration with AWS Connected Mobility Solution. The AWS and Otonomo collaboration will further boost the transformation of the mobility ecosystem and speed up mobility services for all.
Powering smarter decisions and services with connected vehicle data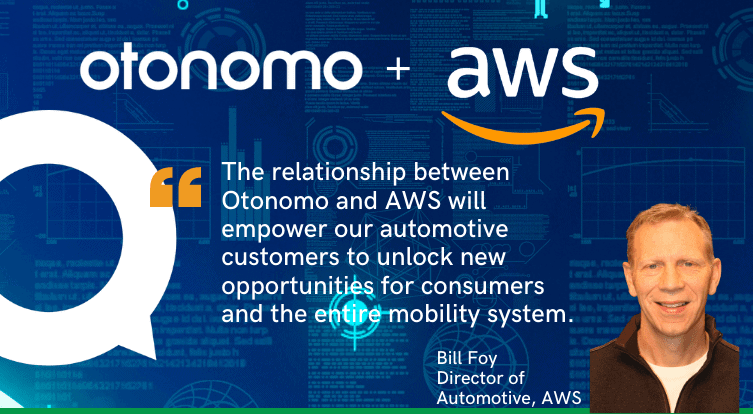 Otonomo Vehicle Data Platform securely ingests billions of data points originated from vehicles on the road, while providing cleansed, harmonized and readily accessible multi-brand vehicle data through one holistic solution. Otonomo vehicle data is powering smarter decisions about traffic, roads, vehicles and driving behaviors, with privacy by design and neutrality as a core, for straightforward compliance with GDPR, CCPA, and other privacy regulations. Otonomo has developed a robust suite of SaaS offerings for both personal and aggregate data that provide tailored capabilities and applications to further expedite time-to-market for new mobility services.
Otonomo vehicle data is utilized by service providers, fleets, and smart cities for a wide variety of use cases, including congestion management and transportation planning, safety and emergency solutions, parking solutions, mapping and planning solutions, EV services, fleet management, usage-based insurance, subscription-based services, and many more.
Otonomo is integrated with AWS's Connected Mobility Solution
AWS Connected Mobility Solution enables automotive manufacturers and service providers to securely develop and deploy a wide range of serverless automotive applications, without having to manage any infrastructure.
Integrated with AWS's Connected Mobility Solution, Otonomo's Vehicle Data Platform is offering AWS automotive industry customers readily available vehicle data. AWS customers can leverage their existing cloud infrastructure to access cleansed and harmonized multi-brand vehicle data and accelerate their services and solutions.
"Together with AWS, Otonomo provides a solution for the automotive industry to fully leverage the value of connected vehicle data," said Ben Volkow, CEO, Otonomo. "Having secure and compliant access to rich, harmonized vehicle data is the key to developing valuable services for drivers, fleets, smart cities and enterprises. Our close collaboration with AWS offers AWS automotive industry customers and partners seamless access to a more advanced and mature market data utilization solution".
Unlocking new opportunities for the entire ecosystem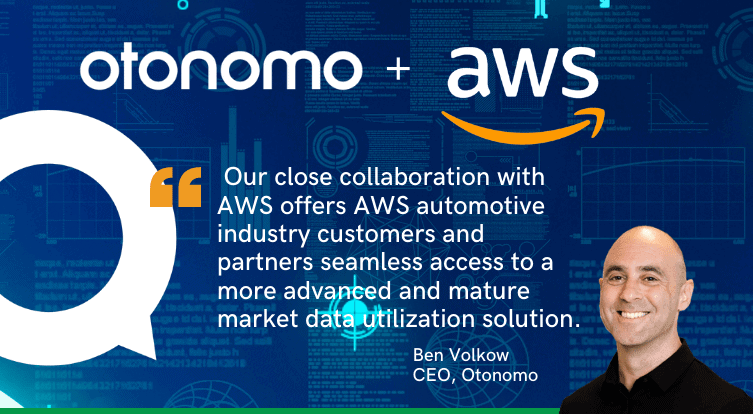 Otonomo's integration with AWS's Connected Mobility Solution is designed to help AWS customers to more easily scale their vehicle data operations and deliver faster services that impact the driving experience and the overall mobility industry. Automotive manufacturers can securely share vehicle data in compliance with regulations, while service providers can utilize rich and harmonized vehicle data for faster innovation cycles.
"As the number of connected vehicles increases, so does the demand for data-driven products and services, and the opportunities for data utilization," explains Bill Foy, Director of Automotive, AWS. "The relationship between Otonomo and AWS will empower our automotive customers to unlock new opportunities for consumers and the entire mobility system. With this expanded relationship, global automakers can rapidly deploy one of the most advanced vehicle data solutions using their existing cloud infrastructure and capabilities."
Check out the Otonomo Connector for AWS CMS on the AWS Partner site
Read the Otonomo AWS Case Study