I'm thrilled to announce that 12 different industries are collaborating with us to transform their business with car data. Based on our assessments – this is a record for automotive data services platforms. The Otonomo Automotive Data Services Platform now supports multiple business types globally, from energy to mapping to parking.
When I started Otonomo, my vision was to create a new category in the automotive industry. I wanted to leverage its existing capabilities to improve services for drivers. By partnering with OEMs, rolling up our sleeves and delving into connected car data, we were able to discover its unexplored potential to create smarter cities and happier drivers.
Shaping the Future of Business with Car Data
Four years later, we are well on the right track. The fact that we have 12 industries collaborating with us demonstrates the shift in business perception and how car data utilization has gained mindshare. We can now safely say that car data is shaping the business of the future.
By integrating car data into their systems, companies and municipalities can immensely improve the existing services they provide to their customers. Data provides insights and information that, when analyzed and implemented correctly, improves efficiency, enables smoother service operation, and creates a better user experience. For example, traffic management companies can use car data to operate traffic lights in real-time in case of congestion and mapping companies can add new map layers, like road signs.
However, car data also opens up the opportunity for new businesses. Services like in-trunk deliveries or electric vehicle smart charging are now up and running for drivers to enjoy. Such services weren't available before and they are now, thanks to car data. In these cases, the data is the new technology.
Otonomo's 12 Industries
Otonomo collaborates with multiple OEMs and Fleets. We receive car data, which we aggregate, clean, harmonize, organize, reshape, analyze, and pass through privacy filters. This data is now ready for consumption for service providers: companies, municipalities, SMBs, startups, and organizations that can utilize it for research and for driver services development.
The 12 industries we are collaborating with that are enjoying the product of our work are: energy (16%), insurance (12%), maintenance (12%), smart city (9%), traffic management (9%), parking (9%), fleet management (6%), fueling (6%), location intelligence (6%), mapping (6%), financial services (6%), and media research (3%).
Quickening Market Maturity
When I look at the OtoGraph Todd Brockdorf, our Head of Americas Solutions Architecture, created, I see how far the industry has come. The OtoGraph is a market research graph presenting the maturity of markets in terms of data utilization. Most of the markets we're collaborating with at Otonomo are fairly mature. However, markets like fueling and energy, which are still taking their first steps in this field, are also collaborating with us.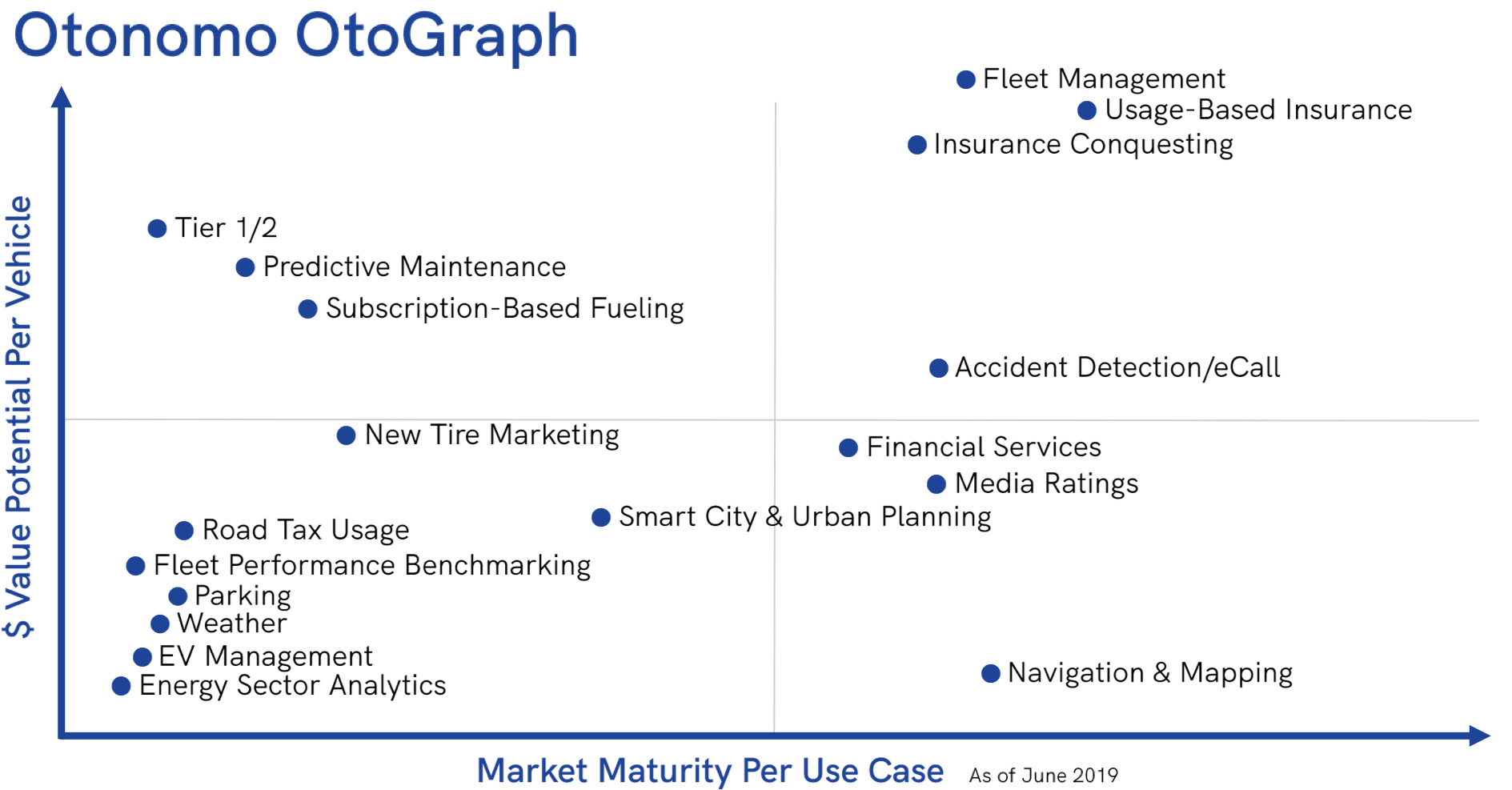 Thank You
I'd like to thank all of our partners across all industries that have decided to be the pioneers in the automotive industry and to use data to create new and innovative businesses. Cooperating with 12 industries is a huge milestone for us, and it represents the hard work of the whole Otonomo team and of our partners. We look forward to reaching even bigger milestones soon.
To try out a car data demo, FREE 30-day trial.
For any inquiries, contact us.